Japan has had its hand in creating some of the most innovative and intriguing forms of sport to date. Past its creation of some of the most prolific martial arts in existence, the Land of the Rising Sun has also taken a liking to modifying existing sports for a variety of reasons. Regardless of the motivation behind creating a new form of sport, a few things are always guaranteed – it's going to be highly interesting to spectate and normally takes something that's already been done but to a more extreme level. Ekiden is one of those sports, where Japan took the classic running relay race and pushed it to new extremes, especially in terms of individual running distance and overall course length.
The Price Takamatsu Cup Nishinippon Round-Kyushu Ekiden is one of the most exciting annual competitions held in the Ekiden community. The cup, normally referred to only as the Round-Kyushu Ekiden, shares its name with the late Prince Takamatsu. Prince Takamatsu was the younger brother to Emperor Showa and son to Emperor Taisho and Empress Teimei. Takamatsu lived until 1987 and had the Round-Kyushu Ekiden named to honor him, prior to even becoming emperor.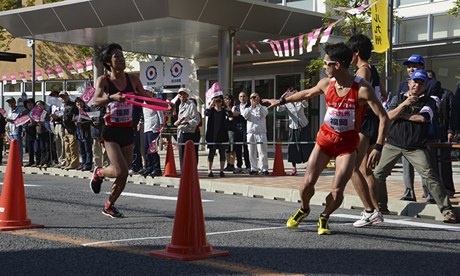 The race has been held annually since 1951 and draws in competitors from all prefectures located in Japan, including those not on the main island such as the Okinawa and Yamaguchi Prefectures,  to the island of Kyushu in order to compete. Round-Kyushu Ekiden is the longest relay race in the world just in sheer distance. The race-course consists of 72 segments, wherein each runner has one segment to himself, coming together for a total distance of 1064 kilometers (660 miles).
The 72 segments and excessive distance to be covered crosses through 10 towns from start to finish, starting in the city of Nagasaki, followed by Sasebo, Saga, Kumamoto, Minamata, Kagoshima, Miyazaki, Nobeoka, Oita, Kitakyushu with the final destination being Fukuoka where the final segment and race to the finish line beings.
Round-Kyushu Ekiden is held every November and results in the winners receiving the prestigious Prince Takamatsu trophy. A significant factor that goes into the planning for the event and strategizing for the teams is the time of year – November is a cold month in Japan, especially at night and early morning. Since the race is continuous, some of the competitors must compete in the harshest weather conditions the nation has to offer. It is to note however, that the race has not taken place since 2012 due to the harsh conditions of the race on the athletes as well as potential for traffic accidents involving the competitors. It is, however, likely for the race to resume its annual tradition once different routes and competition times have been established.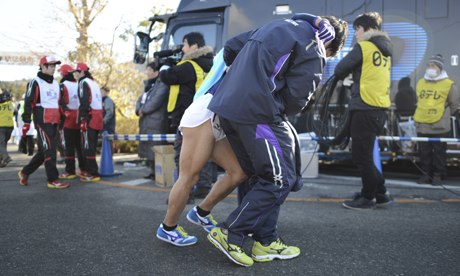 Images by Adharanand Finn on theguardian.com